Portfolio
DMS was established to provide construction and maintenance services to a wide variety of federal clientele. As our name suggests, we continue to diversify and expand our capabilities to provide a best-value solution to meet our clients' evolving needs. DMS offers quality experience from exemplary past performance in the following service areas:
IDIQ Contracting (Indefinite Delivery/Indefinite Quantity Contracting)Construction Management
Base Operations Support
Janitorial Services, Building & Grounds Maintenance
Planning & Design
Engineering Services
Remote Monitoring

We have implemented our solution-oriented services throughout the federal marketplace, servicing numerous agencies including: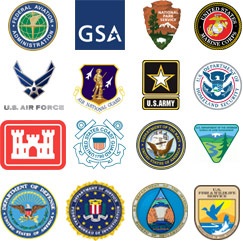 Federal Aviation Administration (FAA)
General Services Administration (GSA)
National Park Service (NPS)
United States Air Force (USAF)
United States Air National Guard (ANG)
United States Army (USA)
United States Army Corps of Engineers (USACE)
United States Coast Guard (USCG)
United States Navy (USN)
IDIQ Contracting (Indefinite Delivery/Indefinite Quantity Contracting)

From our first IDIQ contract awards at Dugway Proving Grounds & Deseret Chemical Depot in 2001, DMS has established a "hand-in-hand" partnership with the United States Government. We understand the performance-based nature of IDIQ contracts and continually exceed our client's expectations in cost, schedule, quality and safety. Our experience is broad - encompassing a vast array of task orders from simple repairs and renovations to construction of specialized laboratories and highly-secure facilities. DMS typically performs simultaneous task orders. Our unwavering tradition of high standards has resulted in the award and positive performance of 18 IDIQ contracts.
Construction Management

Through our Construction Management services, DMS focuses on matching client values with best construction industry practices. With a common goal in place, DMS manages the construction process - from inception to completion - placing emphasis on quality control, fiscal management, schedule compliance and subcontractor coordination. Because our success is ultimately measured in satisfying our client's expectations, we combine ingenuity with an old-fashioned work ethic to obtain unparalleled results.
Base Operations Support

Building on DMS' extensive experience in the construction and maintenance industries, we have expanded our scope of services to include Base Operations. Utilizing innovative management tools, we provide responsive services in support of military operations at various installations across the United States. DMS' result-oriented approach includes establishing mutual objectives and performance parameters to ensure we are providing responsive and reliable service that meets our client's expectations.
Janitorial Services, Building & Grounds Maintenance

DMS provides comprehensive maintenance and janitorial services to meet the needs of state and federal clients throughout the nation. With an impeccable attention to detail, we ensure our client's facilities are expertly cleaned and maintained to fulfill critical operational requirements. From grounds maintenance to janitorial services, DMS responds with professionalism and integrity to support efficiency in every working environment. To date, DMS has serviced 12 facilities including military installations, federal buildings, dams and airports.
Planning & Design
Site assessment
Conceptual engineering
Cost estimating
Procurement planning & scheduling
Engineering Services
Field inspections & reports
Owner representation
As-built drawings
Progress reporting